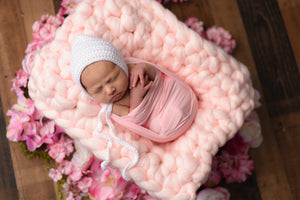 Brand new in our boutique, this 16" x 20" (41 x 51 cm) pale pink oversized chunky crochet newborn bump blanket is a perfect photography prop for newborn baby girl photo shoots. This super thick & soft knit piece is amazing for photographers looking for a cozy prop full of color and texture for baby's first pictures. It works well in a nesting bowl, basket, bucket or on a posing beanbag as a mat, accent, stuffer, or filler.
---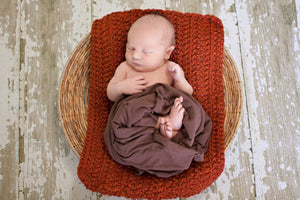 Pumpkin spice has never really been a flavor that I overly enjoy (sorry Pumpkin Spice Latte lovers). But give me some pumpkin spice-colored yarn, and I'm dearly longing for the cooler Fall temperatures and gorgeous colors that come with it This Autumn-inspired color has been a go-to color accessory staple for those that love Fall as much as I do. Here are some of the items I can crochet with this beautiful orange-brown color.
---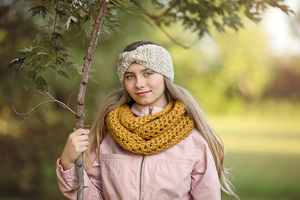 Our newest collection features 5 brand new accessories, which are sure to become your Two Seaside Babes Fall favorites. Keep your head cozy and stylish in our Pom Beanie, Double Pom Beanie, or Messy Bun Ponytail Beanie. Or perhaps you prefer our Knotted Bow Winter Headband in lieu of a hat. Finish off your look with our thick and warm infinity scarf. Maybe you'd love one of each...we certainly wouldn't blame you! After all, you can choose from baby, toddler, girl, & women's sizes in 32 gorgeous colors.