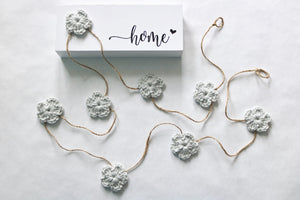 We're now offering our best selling farmhouse garland with petite crochet flowers, just in time for Spring & Easter. This pretty holiday and home bunting is available in 30", 45", or 60" lengths in 39 trendy colors, one of which is sure to be perfect for your American farmhouse style decor.
---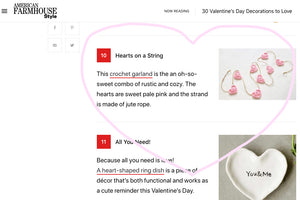 A HUGE thank you American Farmhouse Style for featuring our pale pink heart garland in 
"30 Valentine's Day Decorations to Love"
. 
Our Etsy bestseller listing, available here, was featured in spot #10, along with some super lovely farmhouse holiday finds. We're tickled pink to have been included!
---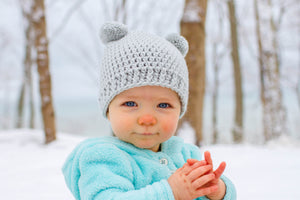 Our super-popular mini pom pom hat has been available in 39 colors for a few months 
here
. However, we weren't able to get modeled photos taken of one of our best-selling colors until now. This pale gray is a gorgeous shade that works well for both girls and boys. 
---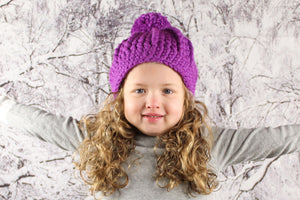 I LOVE all things purple. It's kind of an impractical love, as I've bought things solely because they're purple. Like a vacuum cleaner that died 2 months after buying it. But I digress. 
So you can imagine how insanely excited I am about this new Purple Orchid color of mine! Could Maelee look any cuter in this pom beanie winter hat color? It's available in baby - women's sizes and ships free to all US addresses. 
---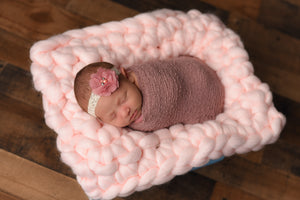 We're super excited to offer 3 new yarn colors for both our round and rectangular newborn photography prop chunky bump blankets. These super thick & soft knit pieces are amazing for photographers looking for a cozy prop full of color and texture for baby's first pictures. They work well in a nesting bowl, basket, bucket or on a posing beanbag as a mat, accent, stuffer, or filler. We've crocheted them with super soft and incredibly thick 50% acrylic, 35% polyamide & 15% wool. Previously only available in Pale Blue, Pale Pink, Ivory Cream, and Gray, you can now find Rainbow,...